creating new cultures, hand in hand.
The parent bodies of hankyu hanshin marketing solutions (hhms:), namely, the Hankyu Hanshin Holdings Group and the H2O Retailing Group, have been contributing to the development of rich everyday-life cultures through their business activities encompassing railways, department stores, supermarkets, housing and urban development, entertainment, tourism, hotels and many more. We, hankyu hanshin marketing solutions, also aspire to make the world a happier place by creating new cultures with our clients and consumers, serving as their value creation partner.
To devise solutions by using brand purposes as motivation
purpose driven marketing company
These days, consumers select products and services by not only quality and price, but also the value that the products and services bring, to both the customer and society.
These activities cannot start without data on our consumers. We aim to make effective use of a wide variety of data, including the data assets accumulated through the business activities of our parent bodies, the Hankyu Hanshin Holdings Group and the H2O Retailing Group.
Based on our understanding of our consumers through the use of data, we identify social and corporate challenges to determine the brand purposes of products and services. Taking these purposes as motivation, we devise solutions. In this way, as a purpose-driven marketing company, we aim to develop and run a wide range of business operations, from the development of brands and business values to the creation of frameworks for experience and advertising communication.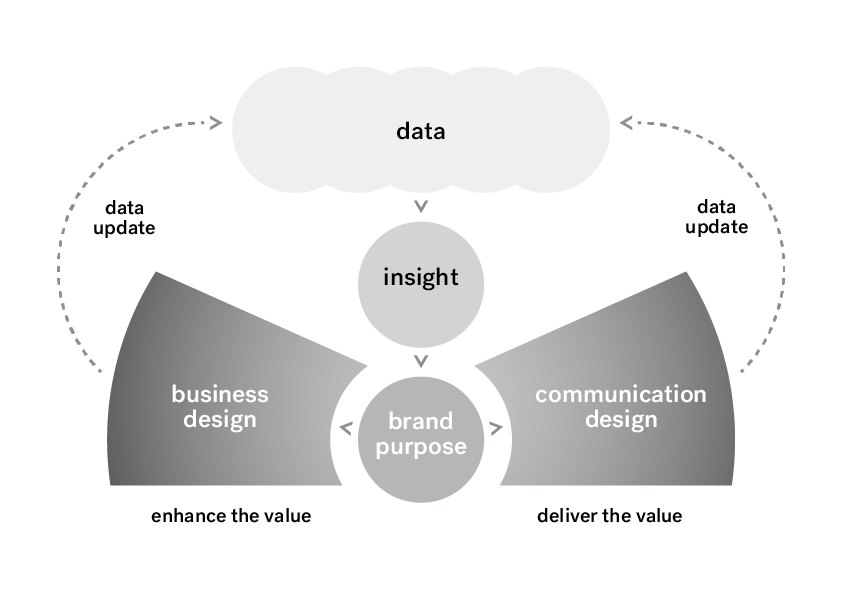 data

To grasp social trends, and consumer awareness and behavior.

insight

To identify clients' challenges by reading consumers' minds through data use.

brand purpose

To clarify the distinctive values (= brand purpose) offered by our clients through their products and services.

communication design

To encourage consumers action by selecting appropriate media with consideration to scenes of everyday life, combining the selected media, and applying creativity as appropriate to the respective cases, in order to introduce the distinctive values of our clients.

business design

To create frameworks for consumers to experience the distinctive values of our clients transcending the parameters of media and creativity.
value
To achieve our mission and vision, we adopt the four values as below. These are commitments made by "hhms:" to its clients and society, serving as action agendas for each employee.
Enjoy challenges

Set up an ideal and achieve it without giving up.

Act swiftly

Improve our ability to judge and act spontaneously.

Group of experts

cquire high-level skills and resolve issues through teamwork.

Sincere attitude

Keep our promises and do our best for our clients and society.